Maria Veiga
To find out more or to book an appointment, contact Maria:
07946894771
www.knowingyourself.co.uk
Availability:
Thursday evenings, Saturdays 10am-2pm. Skype sessions available.
Charges:
£40 per session
Maria's passion is to help you get in touch with your true self, the self lost in the midst of life's stresses, expectations and hurt.
Counselling offers something unique: a safe, confidential space for you to be the full you. Outside in the world we become anything and everything else, following the roles and the expectations of the many. Here there are no expectations! Instead there is full acceptance of you and your story. A space to explore what is going on, and what has happened in the past – or not. So many of us find ourselves unhappy/depressed with no apparent reason. Together, we can find the reasons.
Friends and family can never really do or be what a therapist can. They can offer a shoulder to cry on, a sympathetic ear. They can give you advice. They might have their best intentions at heart, but they will also have expectations that might not be what you need. As a therapist Maria offers her full attention, expertise, experience, empathy and unconditional acceptance.
There is no quick fix or magic pill, there is only the opportunity to change and heal. The power of therapy is in the trust of the process.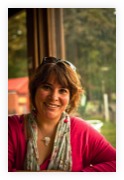 Maria is a qualified counsellor, having graduated with a Diploma in Therapeutic Counselling from Lambeth College in 2008. She also studied healing with the NFSH (National Federation of Spirit Healers) in 1994 and later learnt Reiki. Since 2005 she has worked at the Cassel Centre in Lewisham with clients from many walks of life, ages, races, religions and sexualities, as well as with issues including depression, anxiety, self-esteem, panic attacks, body image, addiction, mid-life crises, parent & marriage issues, divorce, sexual & physical abuse, loss, abortion, stillbirth, illness and much more.