Chiropractic
To find out more or book an appointment, contact Ed:
07940330084
ed@southlondonchiro.com
southlondonchiro.com
Availability:
Wednesdays
Contact Ed for other availability
Charges:
Full assessment & treatment: £78
Follow-up treatment: £48
Full price list available here
Chiropractic is an approach to health that focuses on diagnosing, treating and rehabilitating conditions that arise from the joints, muscles, ligaments and nerves of the body. Chiropractic literally translates as "done by hand"  and chiropractors mostly use hands-on techniques to improve the function and strength of the body's joints and muscles. Often, this will involve quick, very precise movements of specific joints, known as "spinal manipulation" or adjustment, alongside many other techniques.
Chiropractic aims to find the root cause of the problem. Often this may be some distance away from the site of pain, and must be addressed with equal importance. Chiropractors take a holistic view and recognise the importance of lifestyle, nutrition, and all-round wellbeing. Chiropractic is suitable and effective for people of all ages: from babies to the elderly; from pregnant people to top athletes. Techniques can be tailored to suit a wide range of individuals and conditions. For more information about the conditions that Chiropractic may be able to help with, click here.
Chiropractic is a registered profession, meaning every chiropractor in the UK has completed a chiropractic Masters degree, and is fully insured and registered with the General Chiropractic Council.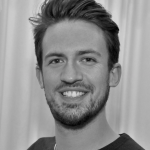 Ed Beesley graduated from the Anglo-European College of Chiropractic in 2012. With over ten years' of clinical experience, he likes to incorporate the latest scientific thinking into his practice, while remaining true to the core elements of the discipline that make Chiropractic care unique. He enjoys seeing a wide range of patients, using the natural, non-invasive approach of Chiropractic to improve the functioning of the body. Outside of his work as a Chiropractor, he enjoys running, football and cooking healthy and delicious meals.