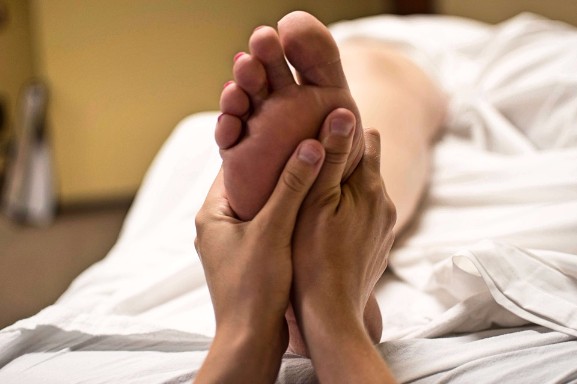 To wrap up our Focus on Anger this April, Reflexologist Jane Tilton provides some insight into how Reflexology can help us when we struggle with angry feelings.
What colour do we generally associate with anger?
Most people will say red. So, what are the clues to a Reflexologist that a client is struggling with feelings of anger? The soles of an angry person's feet often turn red, which is also a sign of uneasiness or fear.
Having a Reflexology treatment when you are tense and feeling unhappy can help ease these feelings. Concentrating on the points for the liver, solar plexus and the chest, a Reflexologist can help your body to relax. Very often, if it's your first treatment, a reaction may occur as the body gets itself back into a state of balance. Some clients cry, especially if they didn't realise they were holding feelings of anger or resentment. In this way, Reflexology can enable you to find it easier to talk about what is troubling you.
During the course of treatment the soles of the feet will gradually change colour, from a bright red to a calmer, more even tone. Hopefully it will enable you to realise the benefits of letting go of feelings of resentment and anger.
To find out more, book an appointment with Jane. You'll find Jane at Bellenden Therapies one Saturday and Sunday a month.