Belly Dancing
To find out more or book a class, contact Polly:
mrsmiggins13@gmail.com
Upcoming classes:
TBC
All classes 10-11am
Charges:
Standard class: £10
Concessions: £8
1 hour private lesson: £30
Come join Polly Hallam (AKA Mrs Miggins) to stretch, move and laugh to the rhythms of belly dancing.
Practising belly dancing regularly can help with weight loss, toning muscles and improving cardiovascular capacity, and it is especially good for developing the pelvic floor muscles. It also has emotional benefits, helping many to improve their self esteem, confidence and general wellbeing, and providing relief for depression and anxiety. Belly dance is also the perfect pre- and post-natal exercise.
Most importantly, belly dance can be performed and enjoyed by anyone, regardless of age or body type.
What you need to know about classes with Mrs Miggins:
You should wear comfortable clothing (long skirts feel particularly good to dance in), with bare feet or soft shoes.
Coin belts, finger cymbals and veils are provided.
Each move will be explained and demonstrated in detail, and handouts with information about moves, styles, belly dance supplies and the history of the form are available on request.

Mothers with very young babies are welcome to bring them to classes.  Contact Polly for more information.

Belly dance moves suit all women, of any shape, size or level of fitness.  You just need to take your time, practice regularly and be ready to enjoy yourself!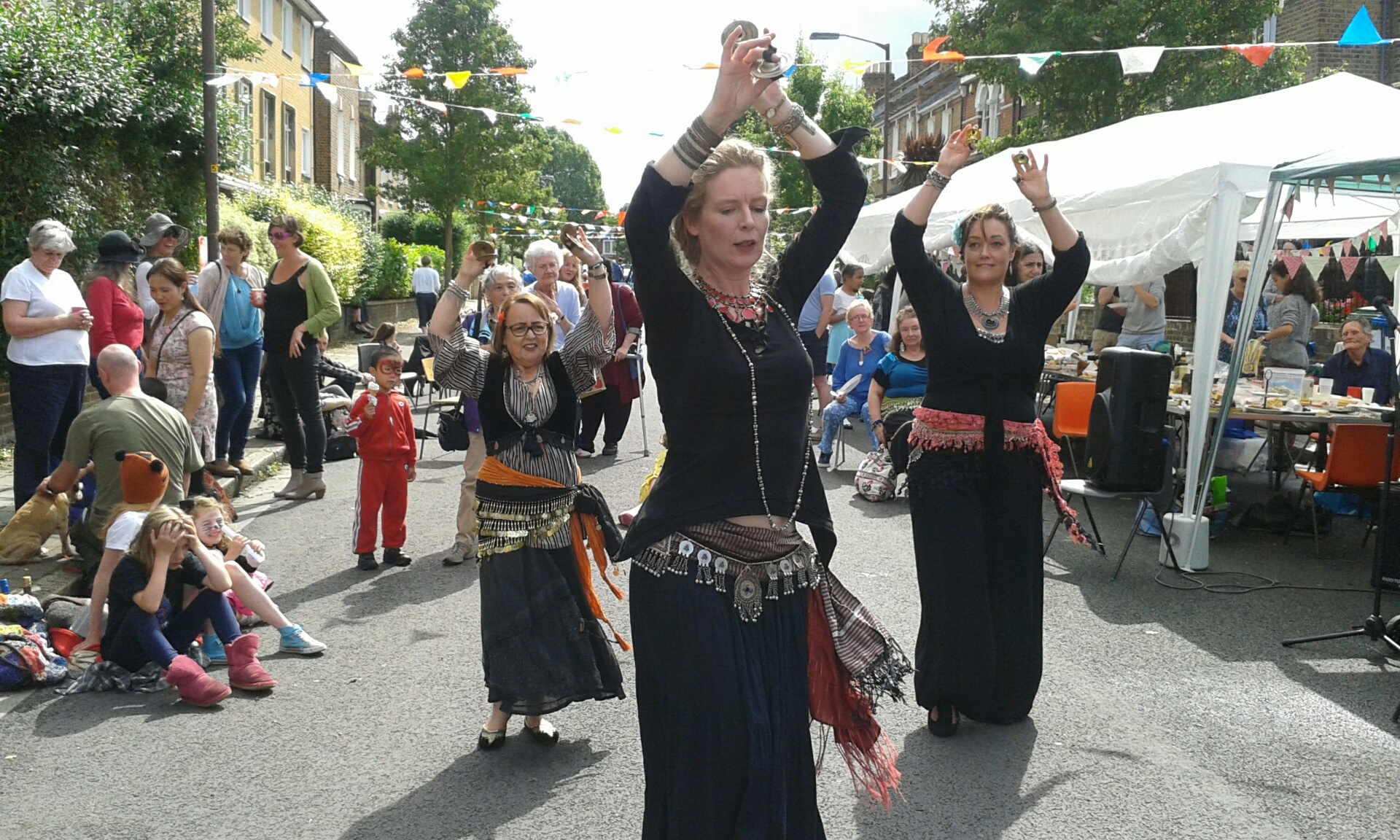 A quintessentially British belly dancer, Polly is a sought after performer and a core part of the thriving, dedicated and highly-skilled belly dance scene in the UK. For over 20 years Polly has brought people together with the joy and dedication of her classes to celebrate belly dance together and to be beheld. She works as a dance teacher both privately and inside the NHS. Students have been referred to Polly's classes from King's College Gynaecological department, and it has proved effective in ameliorating arthritic conditions, sciatica, bad backs and problems caused by slow metabolisms.