Francesca Rogers
To find out more or book an appointment, contact Francesca:
07773399901
francescarogers.com
Availability:
Friday mornings
Charges:
Counselling session: £50
Counselling Supervision: £60
EFT (Emotional Freedom Techniques) session: £70
Francesca is offering virtual appointments at this time – contact her for details
Life today is so fast-paced that finding an hour where you can talk about yourself and really be heard has become almost impossible.
Francesca's goal is to create a place where you feel comfortable enough to start exploring the difficult or unwanted feelings in your life, whatever your situation, and start to place value on this time that is dedicated to you.
With over 10 years experience as an Integrative Counsellor, Francesca provides a safe, confidential space, and with a warm, insightful nature, she hopes to help you feel comfortable in your environment.
Our sessions together are like a journey. We will look at finding your inner strengths so that you can begin to utilise them in everyday life through self knowledge and awareness. By engaging in counselling, we can work together to develop various tools and skills to enhance your psychological well-being.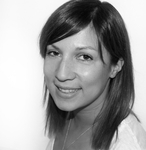 Francesca Rogers MBACP has been passionate about counselling since she began training. As a member of the British Association of Counsellors and Psychotherapists, Francesca adheres to their code of ethics and framework for good practice. As required by the BACP, she is in regular supervision and follows an ongoing programme of continuing professional development. With over 10 years experience as a qualified Integrative Counsellor, she likes to work intuitively with clients and what they bring to her sessions. Through her Integrative approach she draws on a range of therapeutic techniques in her work depending on what seems most suitable for each client's needs. She is also a Psychotherapeutic Supervisor and an AAMET Accredited EFT Practitioner.