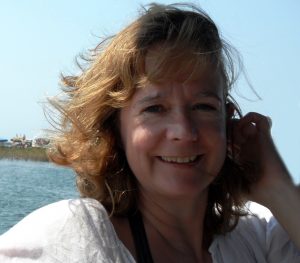 June 12th is the start of the IFA's Aromatherapy Awareness Week, so this month we talked to our Therapist Jane Tilton about Aromatherapy, her love for her job and how we can all benefit from and incorporate Aromatherapy into our everyday life.
Jane has been practising Aromatherapy for some 25 years.  She is a member of the International Federation of Aromatherapists (IFA) and has been a council member twice.  She has written several articles and contributes to the 'Aromatherapy Times' as well as other books and magazines. She also runs classes on making your own Aromatherapy products and Baby Massage.
What is Aromatherapy?
Aromatherapy is using the natural essential oils, distilled from plants; the flowers, leaves and roots to help bring about a sense of balance. The scents themselves can help people relax mentally, however the properties of the oils will also help with physical issues such as digestion, muscular aches and pains. Combined with massage it provides a very gentle and powerful combination.
What are some of the benefits of Aromatherapy?
Aromatherapy is generally suitable for everyone. Although the most common way to use the oils in the UK is through massage there are many other ways to get the benefits of essential oils on a daily basis. Aromatherapy is generally helpful in digestive issues, feminine matters and also for depression. The oils help to balance people out; with massage they can help to bring a state of relaxation that can help people find a space for themselves.
What attracted you to Aromatherapy?
Like most children I've always liked to make 'perfumes' with flowers, making potions with things from the garden. I was introduced to Aromatherapy many years ago and found that the study of it was something that fascinated me.
How did you start practicing?
I started practicing at home on friends, then got a clinic in a GP's surgery, during my time I have worked in old people's homes, further education centres, schools and for the past 11 years I have had my own clinic at Bellenden Therapies.
Do you have a specialisation in your practice?
Generally, I see what people need on the day. I will often see a range of people, men and women. I don't really specialize. However, I do always make up the blend for each individual on the day, depending on what they need.
What is your favourite thing about practicing Aromatherapy?
Apart from the beautiful scent, it is the way my clients look after they have finished having a Massage.
What has been the highlight of your career so far?
Many things: setting up the clinic, organizing and doing the massage on relaxation holidays, writing articles and speaking on aromatherapy.
Do you practice or receive any other Therapies? If so what do you like about them?
I also practice Reflexology, Reiki and Kinesiology. I like the way they complement each other. For instance, some of my clients have a combination treatment of half Reflexology and half Massage. Others might come in with an issue where a Kinesiology might help pinpoint what would help or which oil might be the best for that time.
If you were stuck on a desert island and you could only take one essential oil, which one would it be and why?
I think it would have to be Lavender. It has so many uses and the scent is lovely.
Do you have any hobbies or activities you like to do for fun?
I like reading, cooking, taking part in community theatre and obviously having Massages!